Frontline Human Resources announces partnership with Yurringa, to improve economic parity for Indigenous communities
April 06, 2021 | Press Release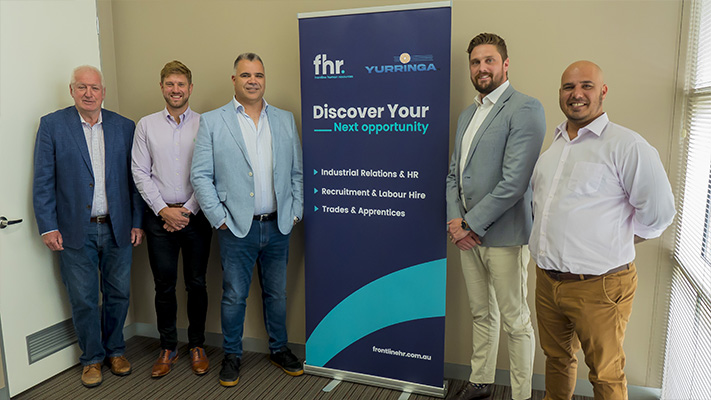 VICTORIA, AUSTRALIA 06 APRIL 2021 – Frontline Human Resources (FHR) is proud to announce a partnership with Yurringa – an Indigenous-led, and owned, employment enterprise in Shepparton, Victoria.
This partnership provides Yurringa with back-of-house, scalable capacity, to offer labour hire and employment services to the communities they serve. The partnership seeks to create sustainable, prosperous, and balanced communities amongst those who experience disadvantage.
Through this collaboration, Yurringa can act on its objectives of improving economic parity between Indigenous and Non-Indigenous communities, to achieve a more sustainable future for Indigenous people. The relationship is formally reflected in the words "Yurringa, powered by FHR".
Yurringa, powered by FHR
Yurringa was founded by Daniel Briggs, who also serves as Executive Director for the enterprise. After returning to the Shepparton region after a successful career in law, he began to resonate with the journey and aspirations of his father Paul Briggs. Mr Briggs' well-documented history includes establishing the Rumbalara Football Netball Club and serving as a director of the Kaiela Institute.
"For 40 odd years my father as has always strived to improve the wellbeing of Indigenous people, and tried to get some parity on life expectancy and quality of life," explains Daniel Briggs.
At a similar time, Frontline Human Resources was reviewing the impact of its branch in regional Victoria, recognising a need to participate actively with the local community.
"With the FHR business now having a significant regional presence, we wanted to have a more profound impact on the communities we service and are a member of. Many of our candidates experienced a range of barriers preventing them from securing and sustaining employment. When discussing our own candidate challenges with Daniel, he and his team educated and worked with the FHR team to create greater understanding on why Indigenous Australians are falling behind in every economic, social, emotional, and physical well-being indicator" explains Adam Vivian, Chief Operating Officer of FHR.
Seeing the opportunity and aligned values, Daniel Briggs began discussing a strategic partnership that could go beyond financial sponsorship. Powered by FHR, Yurringa would have the ability to provide sustainable recruitment, mentoring and training services for Indigenous people in the region.
Daniel Briggs continues, "Frontline has afforded Yurringa instant capability, enabling us to achieve our goals. Being privately funded, I didn't have the desired infrastructure I'd envisaged for Yurringa. With our strategic alliance that infrastructure is almost immediately recognised."
"Managing growth, scaling up and maintaining the integrity of our diversity and inclusion programs while meeting our social purpose was always going to prove a potential challenge."
"There has been a genuine absence of legitimate and effective Indigenous involvement and many programs fail to take proper account of Indigenous aspirations. That's where the Yurringa program is different and it's my vision on closing the gap." said Briggs.
Adam Vivian continues, "Good engagement requires developing a shared understanding of the problem while learning how to generate common goals and clear mutual expectations about Daniel's vision for Yurringa. The other component is ensuring we continue to build on the principle of social responsibility – having Daniel educate our workforce, in a meaningful way. Genuine education of our workers with an appreciation of Indigenous history, cultures and contemporary social dynamics, understanding the diversity of Indigenous communities with the cultural competency to respond appropriately. That consulting engagement requires a relationship built on trust and integrity."
With certification from Supply Nation and Kinaway, Yurringa is well-positioned to make an impact in the labour hire and recruitment market. In addition to providing jobs for workers, they are poised to support growing Indigenous businesses in our regions. Looking to the future, Daniel Briggs sees this as the start of something much bigger.
He remarks, "It's private enterprise that's supporting me. And now that we've partnered with FHR, it's an incredibly significant accelerator for success. Over time, we are collaboratively planning to scale accordingly, with national growth – not only in the services we provide, but the outcomes as well. It goes well beyond employment."
Media Contacts:
Steven Clarke
Brand & Marketing Manager, FHR
stevec@frontlinehr.com.au
Adam Vivian
Chief Operating Officer, FHR
adamv@frontlinehr.com.au
Author - Frontline Human Resources
---
Tags
press release
,
aboriginal recruitment
,
labour hire
,
partnership