Beyond The Premiership - Supporting Indigenous Employment With Rumbalara
November 12, 2020 | Insights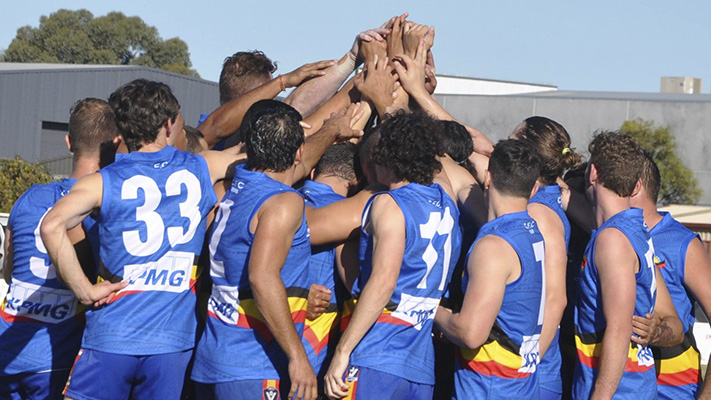 This week, we spoke with one of our team leaders, Darren Mitchell, about his involvement with an Indigenous employment program in Shepperton, Victoria.
In 2019, Darren presented Frontline Human Resources (FHR) the opportunity to become a sponsor of Rumbalara Football Netball Club, an Aboriginal-run community sporting organisation. As well as sport, they lead a range of initiatives to improve the physical & emotional health, education, and employment opportunities of their community. Among these initiatives is the Algabonyah Employment Program, which supports local Indigenous job seekers in finding work.
At the time, Darren was involved in establishing a local presence for Frontline. He explains, "When I was building the branch, I thought it was really important to have community ties, but to go about it the right way."
Connecting with Rumbalara Football and Netball club, he discussed ways to provide meaningful support. He had watched companies roll into town with big promises, but without a commitment to give back to the local community.
"A lot of companies that do it, don't back up what they say. If I'm doing something for the benefit of the community, I have to ensure it genuinely benefits the community."
"Creating opportunity and increasing employment among Aboriginal and Torres Strait Islander communities will allow more Indigenous Australians to get ahead. Being employed provides personal and social benefits and, of course, income."
As a result, FHR has invested over 3000 hours of work for the employment program, as well as a formal sponsorship of the Football & Netball Club. This hands-on involvement has given Darren insight into some of the challenges faced by local Aboriginal people.
"We come from different backgrounds, and we don't always understand what it's like."
"Unfortunately, there are circumstances – especially in country areas – which make it difficult for young Indigenous people to obtain work. A lot of younger kids don't have the opportunity to get their licence early. Some of the boys wouldn't have the chance to pick up a tool, if not for the pre-employment programs and support Rumbalara provides."
Some challenges were worsened by COVID-19, with many blue-collar projects coming to a standstill. Yet in spite of this, the program has seen a fair amount of success.
One project with a major civil construction company created employment opportunities for eight Indigenous workers. As a labour hire company, FHR can manage specialised apprenticeships, making it possible for employers to take on young workers for individual projects at a time. These win-win scenarios create opportunities that otherwise may not be possible.
Reflecting on the experience so far, Darren explains, "I'm always continuing to look for work, understanding the issues, and trying to create opportunities."
"The benefit for me, up here, is about trying to engage and do the right thing. Trying to find Indigenous people rewarding and meaningful work. There are some fantastic stories, some great workers, and genuine friendships to come out of it."
Darren Mitchell is Team Leader (Regional) at Frontline Human Resources. You can connect with him on Linkedin.
Frontline Human Resources acknowledges and pays respect to the past, present and future Traditional Custodians and Elders of this nation and the continuation of cultural, spiritual and educational practices of Aboriginal and Torres Strait Islander peoples.
Author - Frontline Human Resources
---
Tags
sponsorship
,
aboriginal
,
torres strait islander
,
regional
,
community
,
apprentices