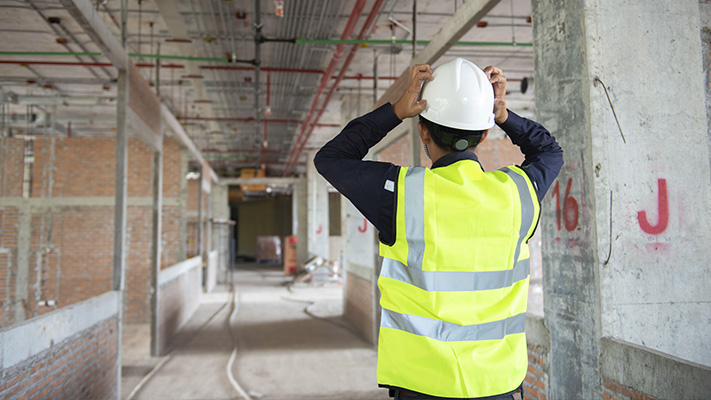 Mental health issues are a serious concern in Australia. According to Beyond Blue, three million Australians are currently living with anxiety or depression. Some of them will inevitably be your employees.
It can be hard to know how to support employees who are struggling. But as a responsible employer it's a must, particularly when you consider the stats.
Research shows that blue collar workers are 70% more likely to commit suicide than white collar workers. This means that every second day an Australian tradesman takes their own life.
So, what can you do to help?
Connect with your employees
Being approachable and relatable is a good way to help employees manage their mental health issues. By having an open-door policy, employees will feel comfortable approaching you. This will help reduce their stress and gives you the opportunity to help them early.
Intentionally checking in on your employees regularly is also important. Showing an employee that you care is sometimes enough to get them talking. It's also a good chance to check that they're not risking burnout by working excessively.
Don't just talk the talk, walk the walk. Show your employees that you support mental health by modelling behaviours for them to mimic. Take a walk at lunchtime, listen to a podcast or music in your break or go to the gym before work.
Promote mental health support services
Employees who are struggling often don't feel comfortable talking to someone within their workplace. Help guide them to an alternative.
Promote services that they can easily access for help. Put the details of these services on noticeboards and in regular internal communications such as newsletters.
There are several organisations that offer mental health services to blue collar workers.
MATES offers a 24/7 suicide prevention and awareness service for construction workers.
This Is A Conversation Starter (TIACS) offers a free text, chat and call back service connecting individuals to qualified counselling professionals and psychologists. They also have a blog filled with useful information.
Wellbeing at work
Encourage positive mental health by implementing wellbeing programs and benefits in the workplace. Focus on things that will help reduce stress and anxiety. Allocate time for each employee to take advantage of these offerings at least once a week.
Programs could incorporate meditation sessions, discounted gym memberships or exercise classes, walking groups, or a quarterly 'doona' day.
Form a social committee with members from each department to organise regular social events. Encouraging employees to socialise can promote inclusivity and help employees feel valued which, consequently, helps alleviate anxiety and depression.
Be informed
Educate yourself on how you can best support your employees. Explore organisations that offer services and training to help establish a mentally healthy workplace.
Initiatives such as WorkSafe's WorkWell offer this. Step by step guides outline actions you can implement to address any issues. Action steps cover topics such as self-care, early intervention, and risk of mental injury.
MATES provide workplace training in improving mental health and suicide prevention literacy.
Beyond Blue offer free online resources to increase understanding of mental health in the workplace and provide practical strategies to support you.
Organise awareness events
Regular workplace events that increase mental health awareness are a great way to get people talking. These events can encourage people to share their struggles and help reduce the stigma around mental health.
Organisations such as Hope Assistance Local Tradies (HALT) host 'Save Your Bacon' Brekkies and safeTALK events at workplaces across Australia.
These events aim to raise awareness of mental health, connect people with local and national support services and provide employees with the tools to support their own mental health as well as their mates.
Other internal events to consider that can help promote wellbeing in the workplace include a coffee morning hosted by a local mental health professional, a wellbeing team building day, employee subscriptions to meditation apps or magazines and engaging your employees in a 10,000-step challenge with.
By supporting your employees' mental health, you create a valued working environment. Taking small steps can lead to big change. Speaking to your employees' today makes for a brighter tomorrow.
Author - Frontline Human Resources
---
Tags
mental health
,
employer
,
safety
,
health
Related Articles