Frontline Human Resources Announces First Brand Update In Almost 20 Years
January 11, 2021 | Press Release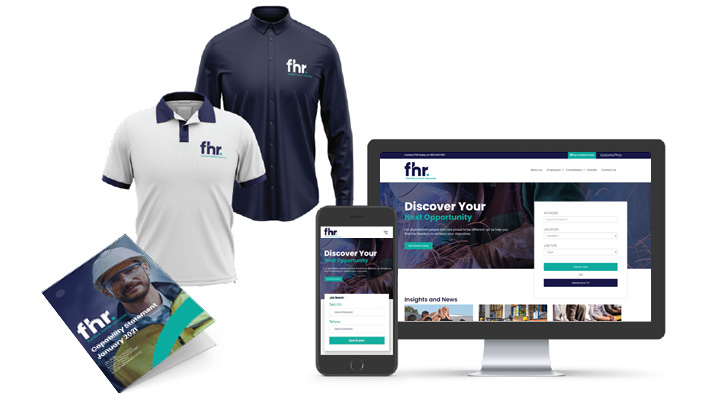 Blue collar HR firm, Frontline Human Resources (FHR), has announced an upcoming brand refresh. From January 15, 2021, the logo and design will be updated across all sites. The brand will predominately go by its acronym, although the trading name will remain unchanged.
FHR has long been a leader in the Australian industrial relations, human resources, and recruitment markets. As the company approaches its 20-year anniversary, the branding has been formally updated for the first time. The new style was chosen to reflect the strength and reliability of the brand's legacy, and the vibrancy of those it now connects with.
"People know about our solid compliance and speed to market, but we're not stuck in the past. Our branding needs to showcase who we are today," says Shane Wilkins, General Manager.
The change comes as the brand reaffirms its commitment to a culture of service, and announces new brand values – safety, integrity, diversity, courage, and passion. As more leading blue-collar firms respond to issues like diversity in the workforce, FHR has recognised its important role in supporting change.
"It's not just the logo. We are adapting quickly, and finding ways to meet the needs of today's market. It is a line in the sand moment for the company," says Adam Vivian, Chief Operating Officer.
Built on the expertise of founders Steve Bisshopp and Perry Zoelfel, FHR continues to be the trusted provider for many industry leaders, particularly in the areas of transport, logistics, mining, and construction. As the company looks to the future, the team is dedicated to remaining as hardworking and robust as people have come to expect.
"By doing our job consistently, we see a huge impact. When our clients aren't worried about staffing issues, they can consider bigger opportunities," says Steve Clarke, Brand and Marketing Manager.
The trading name, website, offices, addresses, and internal structure remains unchanged as a result of this announcement. Stakeholders will not need to update contracts or key documents at this time.
Author - Frontline Human Resources
---
Tags
press release
,
brand
,
community