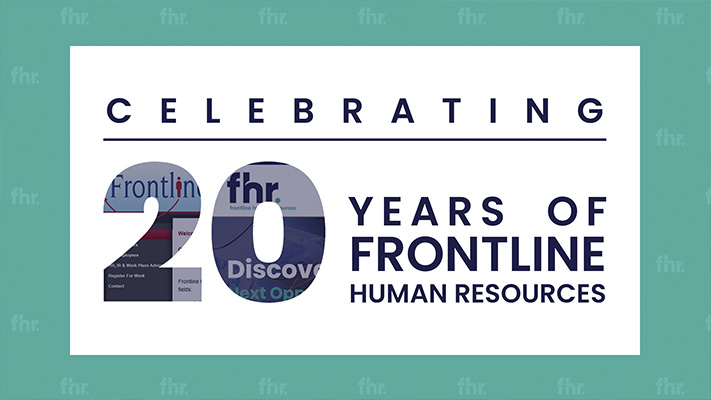 Frontline Human Resources was founded in 2001 by a small group including Perry Zoelfel and Steve Bisshopp. From a background in industrial relations and human resources, they set out initially to solve problems for blue collar and industrial clients.
"It was just an idea, on a shoestring," explained Bisshopp.
The founders came together with $5000 each to start the business, and launched the operation from a small shopfront in Melbourne's suburbs.
"It was a bit nip and tuck, when you didn't have any bank funding to rely on," Zoelfel recollected, "I used to – on an exercise pad – work out how much money to collect."
"But it was fun."
Stepping on to the front line
While consulting, they discovered many industrial relations problems were caused by the wrong people in the wrong jobs. Seeing an opportunity to help both employers and employees, they soon launched FHR's labour hire division. With years of combined IR expertise, they helped businesses get back on track while helping job seekers to find suitable, successful work.
"We liked the idea of being on the front line," Bisshopp continued, "We wanted to put our people at the forefront of their careers."
Apprentices & Group Training
In addition, they began offering a group training model for apprenticeships, which continues to thrive almost twenty years later.
Frontline gave apprentices the opportunity to explore a variety of workplaces, companies, and experiences during their training. Since then, FHR has been proud to send hundreds of experienced, well-rounded apprentices into the workforce.
Zoelfel was eager to share about one of their initial apprentices to pass through the program.
"He finished his apprenticeship, and a few years later we get a call from him wanting to hire apprentices off us."
"That's really fantastic – helping someone – seeing another business grow out of that."
20 years later
Earlier this year, the directors were asked what brought about the success of the company over the past two decades.
"You have to have your admin base right," according to Zoelfel, "and look after your customers – look after your people."
"We've stayed loyal to the cause of what we do," replied Bisshopp, "We stay the course – we've had clients since 2002 who are still clients today."
With Adam Vivian at the helm as Chief Operating Officer, and Shane Wilkins in the role of General Manager, the company is well positioned for what comes next. Remaining faithful to values such as safety and passion are just the beginning for a company which is proud of its history, and ready for its future.
"There's a tremendous capability that's been built right across the business and the national network," shares Wilkins, "We've got some super motivated players, some fantastic clients. It's really just a tremendous business to be in at the moment, and we are absolutely heading in the right direction."
"We're drawing on all of the expertise and experience of this group of players. Every day we can learn from each other, we can support each other, we can grow, and we can deliver some terrific results for our clients."
FHR celebrates its 20th anniversary in July this year. We encourage former apprentices, clients, staff, and candidates to reach out with stories to share from your time at the company.
Author - Frontline Human Resources
---
Tags
history
,
anniversary
,
celebration
,
press release