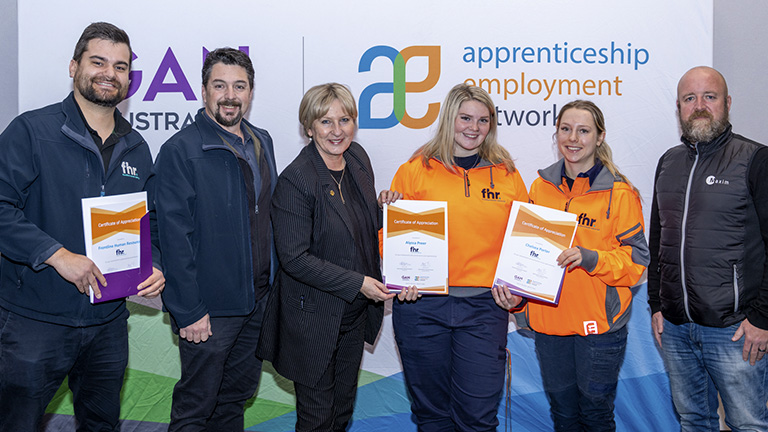 The Metro Tunnel Project is one of Victoria's largest infrastructure projects, with the creation of a new end-to-end rail line crossing through Melbourne's central business district. The project includes 9km of twin rail tunnels, next generation signalling technology, and 5 new stations.
FHR had the opportunity to provide over 20 electrical apprentices to light up this project for future generations. As a result, two of our 4th year apprentices were invited to meet the Minister for Training and Skills, the Hon. Gayle Tierney, at the AEN conference. Along with the FHR team, Chelsea Porter and Alyssa Preer had the opportunity to share their stories of becoming an apprentice.
We are pleased to congratulate both Chelsea and Alyssa on completing their apprenticeships. Although we will miss having you on team, we wish you all the very best for the future!
Chelsea Porter
Chelsea porter is a 4th year electrical apprentice who contributed to the Metro Tunnel Project at Flinders Street station. She came to FHR through a recommendation from a host employer who was downsizing. She was involved on the Metro Tunnel Big Build project, installing cable trays, roughing in lighting cables and tying them onto the tray. She also had the opportunity to install signalling cables throughout the tunnel, stations and platforms. In the last few months Chelsea has been doing commissioning and testing on the lighting and emergency lighting throughout the tunnel.
Alyssa Preer
Alyssa Preer is a 4th year electrical apprentice who worked on the Metro Tunnel Project. She has been with FHR since her commencement in 2019, during which time she has worked with multiple host employers across domestic and commercial areas. Alyssa has also worked on the Burnley Tunnel project installing the lighting tracks down the tunnel.
Alyssa was instrumental in connecting with other female apprentices, organising dinners and catch ups to discuss the challenges and highlights of working in the electrical industry. She created a support network where they could help each other out.
Author - David Barron (National Manager, Apprentices)
---
Tags
apprentices
,
victoria
,
electrical