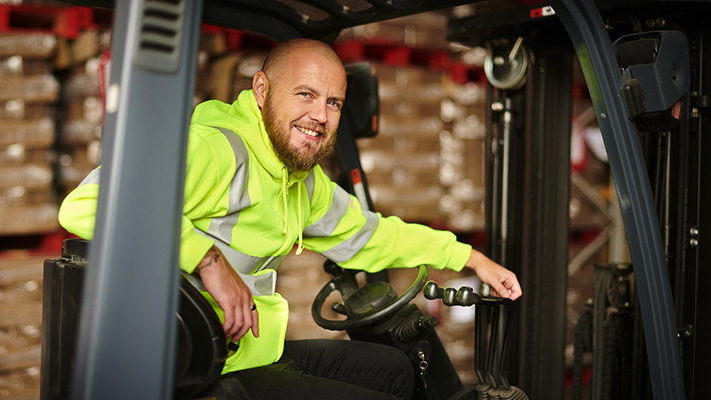 At first sight, forklift driving may not appear to offer many career opportunities. But that perception is wrong. Being a forklift driver is a great springboard into multiple roles and provides a variety of pathways for an exciting career.
While forklift drivers are primarily responsible for operating forklifts and transporting goods to designated areas in warehouses or factories, their responsibilities are more far reaching than that.
They're responsible for ensuring goods are stored correctly, have a solid knowledge of safety and managerial procedures and are able to multi-task. All of this makes them highly attractive to potential employers and guarantees long term work.
In fact, job opportunities for forklift drivers have significantly increased over five years, growing from 57,000 in 2014 to 71,333 in 2019. This growth is predicted to continue at a rate of 9.4% over the next five years.
At the time of publishing, there are well over one thousand forklift driver jobs advertised on Australian job boards.
So, what are the career options and pathways available for forklift drivers?
Forklift Mechanic
Forklift mechanics are responsible for the ongoing maintenance of the forklifts to ensure that they're in safe working order. A mechanic is responsible for identifying and repairing machinery faults, ordering parts, and taking preventative measures.
Diagnostic tools, power tools, handheld tools and welding equipment may all be used
In addition to being forklift certified, further formal training may be required for this role.
Working in a forklift mechanic position, opens up the doorway to a career as a field service technician. With further relevant training, career opportunities include industrial electrician, service engineer or operations manager.
Warehouse Worker/Shipping Clerk
Warehouse workers are responsible for receiving, processing and storing incoming stock and materials. They're also responsible for picking orders and preparing them for dispatch.
Within the role, hand trucks, ladders and forklifts are used to complete the work and suitable PPE is worn. Warehouse workers generally work within a team and report to a warehouse supervisor or a manager.
Working in a warehouse worker role, opens up the doorway to a career as a warehouse assistant, warehouse supervisor or warehouse manager. From there it's possible to step into an operations or logistics manager role.
Warehouse Supervisor/Manager
Warehouse managers are responsible for storage operations and maintaining good staff and supplier communications. They're responsible for coordinating and reconciling incoming and outgoing stock, establishing and implementing ongoing processes and ensuring safety is adhered to.
In terms of staff management, they're responsible for workforce planning, hiring, promoting and terminating employees, as well as training and inductions.
Working in a warehouse manager role, opens up the doorway to a career as an operations manager or logistics manager.
Foreman
A Foreman leads and supervises a team working on a construction project and is responsible for planning and managing tasks based on a timeline and budget.
A foreman is responsible for overseeing the site, managing workers and ensuring safety regulations and procedures are being adhered to. They're also the main point of contact between a client and management.
Working in a foreman position, opens up the doorway to a career as a construction manager, project manager and, furthermore, a senior project manager.
Business Owner
An in-depth knowledge of working directly in the manufacturing or construction industry can provide a great foundation for people wanting to start up their own business and become their own boss.
Having experience in the working environment means that forklift drivers are qualified to know what's needed in the industry and what's missing. It could be a gap that they can fill.
For example, forklift or heavy industrial equipment hire is always going to be necessary, as are resources, specifically people. Similarly, people need forklift training and certification services.
There are so many career opportunities and pathways available for forklift drivers. Aside from the above, there are multiple job prospects in the transport and logistics industries including truck or delivery drivers.
So, banish any thoughts that a career in forklift driving is limited, and get ready to discover your next opportunity.
Search Forklift Operator and related roles today
Author - Frontline Human Resources
---
Tags
forklift operator
,
forklift driver
,
candidate
,
labour hire
,
blue collar
,
career