Successfully integrating white-collar workers into a blue-collar environment
March 10, 2021 | Insights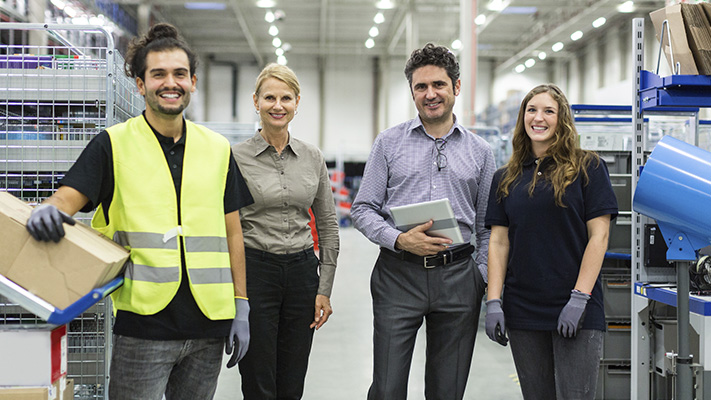 Regardless of the industry, most organisations' workforces are made up of a mix of blue- and white-collar workers. Without the likes of sales and marketing and customer service departments, companies may not meet their full growth potential. And, of course, where would we be without accounts? No one wants to work for free.
Typically, white-collar roles include accountants, administrators, marketing specialists, sales representatives, technology experts, consultants, and executive management.
But how can managers best integrate these white-collar roles into blue-collar companies? How can we achieve the best team culture and avoid a 'them and us' mentality?
Establishing open communication
All employees like to feel a sense of inclusion and being kept in the loop on things happening in the organisation forms part of that.
When employees are given the opportunity to be heard, it empowers them and creates a sense of respect and trust. It reassures them that their ideas and input are being presented and considered.
Meetings that include blue- and white-collar workers are paramount to the effective running of a business and creating this inclusive culture. By representing their department an employee can be the messenger to and from their team, which can provide valuable insight for all involved.
For example, blue-collar workers may be able to give management insight on ways to improve working conditions, equipment, and production processes. Conversely, white-collar workers may be able to train or educate blue-collar workers on administrative or management processes.
Shared goals or plans
Creating equal goals or rewards for blue- and white-collar workers provides an opportunity for everyone to be equally compensated for their hard work.
While monetary bonuses allow employees to share in the company's success, smaller perks can be just as satisfying. In fact, company perks that unite blue- and white-collar workers can be worth more in many ways.
Company trips, family days, picnics or parties offer a great opportunity for all employees to get to know each other better or build on and cement existing relationships.
Creating nicer communal kitchen or breakout spaces can do the same. Being able to mingle in a shared space allows all employees to feel like they're connecting on an equal footing day to day.
Consider hiring people with blue-collar experience
Research suggests the average Australian will change careers five to seven times throughout their working life. One of the most effective ways to integrate white-collar employees into a blue-collar organisation is by hiring those with blue-collar experience. This is effective whether the white-collar role is recruited externally or internally.
Transferring or promoting an internal employee into a white-collar role has many advantages. The employee already has existing knowledge of the business on many levels. They understand the values, expectations and company goals. They also have existing relationships with blue-collar staff so can be the communication bridge between blue- and white-collar departments.
They have an understanding and appreciation of the roles that underpin the business and how white-collar workers can support that.
It's a similar case when an external candidate steps into a white-collar role.
With blue-collar experience under their belt, this new employee arrives with an ingrained respect and understanding for the blue-collar workers and what they do. They know how to respectfully communicate with blue-collar workers and listen to and recognise their needs.
Consider hiring people who are no longer able to do manual labour
Hiring people who can no longer do manual labour is another effective way of successfully integrating white-collar workers into a blue-collar organisation.
People who have previously done manual labour have likely worked in a blue-collar role or organisation. Therefore, much like employees who come direct from a blue-collar role, they have the experience and appreciation of what this entails.
Mutual respect and communication results in a more productive, engaged and loyal workforce. And that's a win for all.
Integrating white-collar workers into a blue-collar environment doesn't need to be hard. With the right approach, an inclusive culture can be established. The result? There's no 'them and us'. Instead, everyone works as one.
Author - Frontline Human Resources
---
Tags
white collar
,
blue collar
,
management
,
employer
Related Articles