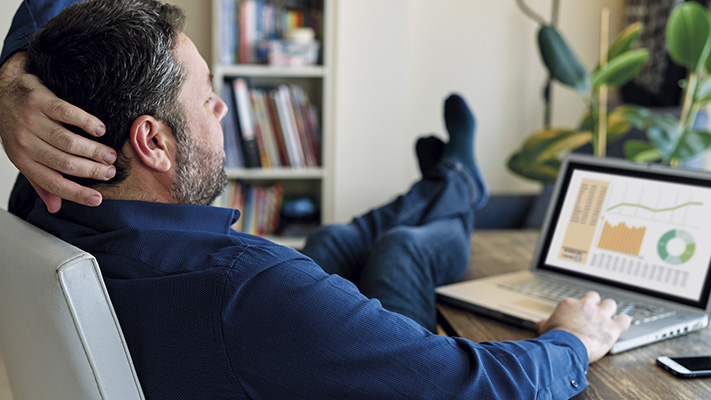 When COVID spread throughout the world, everything changed. For employers that included how they ran their business. They were forced to become more flexible and inventive to stay afloat and working from home became the new norm for employees.
For many employers these changes look set to remain. The experience has shown them the benefits of allowing employees to work from home. But there are some negatives too. Here we weigh up both from an employer's point of view.
The pros
Reduce costs and pressure on space
As an employer, renting or buying office space or premises is one of the biggest costs associated with running a business. Add into this the costs for office furniture, cleaning, IT equipment, car park leases and ongoing support and you've got yourself a sizeable ongoing bill.
However, letting your employees work from home means that you remove all these costs. The result? Your money can be spent in different ways that help to further build your business, meaning your bottom line will be healthier.
Employees are more productive
Working from home gives employees the freedom to work at times that suit them best and when they'll be most productive. For example, night owls may choose to work a few hours in the evening, while early birds may get up and work with the sun.
Take away the commute to the office, the frequent interruptions, and the office noise and what do you have? Employees with a lot more time and fewer distractions. Consequently, they're likely to perform better and be more productive.
In one study 85% of Australians reported being either equally or more productive when working from home compared to the office.
Broadens recruitment pool and retain talent
Allowing employees to work from home means that, when it comes to hiring staff, you broaden your recruitment and talent pool. By eliminating the need to be in commuting distance, you open job opportunities up to people everywhere.
Not only do you attract the best candidates for your jobs, but you also effectively embrace diversity and inclusion by hiring people from different socioeconomic, geographic, and cultural backgrounds.
You also never have to worry about losing good staff if they chose to move away.
Happier and more loyal workforce
Employees nominate flexible work arrangements as the top 'must-have' employee benefit and it's not hard to see why. For starters, working from home has so many health benefits for employees. It makes it easier for them to achieve a healthy work life balance which can result in improved sleep, mood, and wellness.
In a recent study, 45% of respondents noted that the most significant advantage in working from home was having the flexibility to juggle other things. 15% enjoyed being able to work undistracted and 12% felt that the most significant advantage was being able to take care of their children.
In addition to these benefits, employees who are trusted to work autonomously are more loyal, productive, and committed. It's a win win all round.
The cons
Lack of communication
Without regular physical face to face contact, there's a risk that communication can start to slide. Without tone or body language, messages on email or text can become misconstrued or an issue can take twice as long to solve.
Lack of communication can also leave some employees feeling isolated, despondent, and not part of a team. For them, a water cooler chat, a meeting, or after work drinks are as important as the job itself.
In fact, in one study, Australians working from home voted professional and social isolation their biggest negative.
Harder to monitor work performance
Monitoring an employee's motivation and performance is very hard to do from a distance. You can only judge it on the output you see, not on the employee overall. An employee may appear to be thriving, but behind the scenes may be overworked and struggling. Conversely, they may be slipping in achieving their targets or output.
If not working in close proximity, it can be harder to identify and remedy performance issues effectively. By the time these issues become apparent, an employee may be seeking other work or have fallen seriously behind.
Relying on trust
Allowing employees to work from home means there needs to be a certain level of trust, and this isn't always easy. Employees who get distracted at work, may be even more distracted at home.
One study found that for eight in 10 employees working from home, the temptation to slack off means that they end up losing work hours to distractions such as pets, kids, tv and social media.
Employers may find themselves regularly chasing up work and not getting the outcomes expected. One employee's lack of commitment can also have a snowball effect on other team members' work output and attitudes.
Unhealthy workforce
Without clearly defined boundaries between work and home, some employees struggle to switch off. They can end up working more hours than they should, and this can severely impact their wellbeing. Increased stress can manifest in physical and mental illness and can lead to potential burnout.
Research shows that more than half of remote workers felt more stressed in their new arrangement and 44.5% reported getting less sleep than normal.
Working from home may not be a long term or full-time option for your business, but it's worth considering. Weigh up the pros and cons and seek expert advice today.
Author - Frontline Human Resources
---
Tags
work from home
,
remote work
,
employer
,
future of work
Related Articles