Hosting An Apprentice Can Improve Your Team — And It's Not As Hard As You Might Think
January 04, 2021 | Insights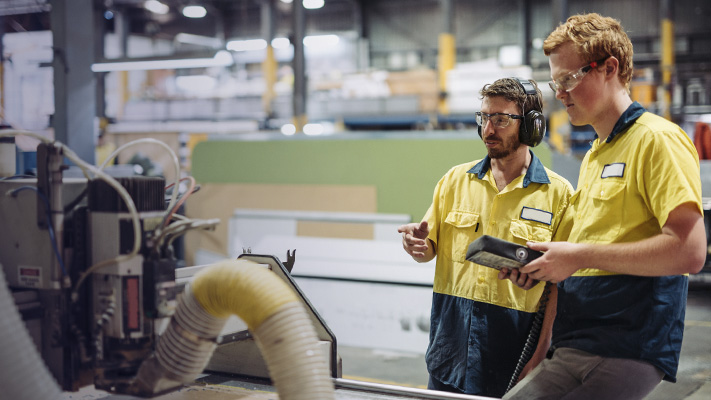 If asked to describe your perfect team member, chances are your list will include characteristics such as 'energetic', 'enthusiastic', 'productive' and 'team player'.
What if finding that team player was easier than you imagined? What if an apprentice could tick the box?
Hosting an apprentice may not be the first thing you think of when it comes to finding the next member of your team. Many people envision it as being hard work. All the paperwork, the training and the ongoing supervision. However, if you take a look at the bigger picture, you'll see that that's not always the case.
There are multiple benefits to hosting an apprentice via a recruitment company.
For starters, hosting, rather than hiring, removes the stress associated with apprenticeship employment terms. Group training offers flexible options so that you only host an apprentice for the time you need, at the level you need.
In the meantime, all apprentices remain full time employees of the recruitment company. They manage the H.R. side while offering ongoing support to the host. Advice and assistance are only ever a phone call away, to ensure the employment experience is a positive one.
So, aside from this, what are the other benefits to hosting an apprentice?
Increased morale
When hosting an apprentice, you probably don't imagine this would have much impact on staff morale. However, according to research it does. In one study, 73% of employers reported a boost in staff morale since having an apprentice.
Apprentices bring with them new energy, ideas and a thirst for learning. Their motivation, desire for success and enthusiasm is contagious and inspiring to others. Through their eyes, other employees can see areas of positivity within the business and team, as well as areas for improvement.
Changes as a result of this can lead to a happier team.
Increased productivity
The positive morale that an apprentice brings to a team also impacts on staff output. Good staff morale results in improved attendance and performance, higher quality work and increased job satisfaction. Naturally, all of these things contribute to productivity
In fact, research shows that, since hiring an apprentice, employers experienced a 78% improvement in productivity.
This is in stark contrast to poor morale, which results in inefficient and unenthusiastic employees, which affects productivity and, potentially, a company's bottom line.
Create new leaders
When you host an apprentice, it's not only the apprentice who gets the opportunity to learn. It's your other employees too.
Helping an apprentice to settle in and learn the ropes gives existing team members the opportunity to develop their mentoring and nurturing skills, as well as their delegation and management skills.
Having an extra set of hands means that team members can delegate some of their workload in order to focus on their own core duties. The more the apprentice learns and can take on, the more the team members gain in terms of time and productivity. Now, that's a win.
Upskill and retain staff
With mentoring and leadership skills under their belt, employees are better qualified to take on additional, senior responsibilities or step into more senior roles within the organisation or team. So, investing in a learning culture benefits all.
In fact, in a 2019 LinkedIn study, 94% of employees said they would stay at a company longer if it invested in their staff development.
Fill a gap
Sometimes there's just too much work and too little time. That filing, admin or unfinished project compete for attention and that deadline's going nowhere. Here's where an apprentice can help.
An apprentice can take on some of the excessive workload and, subsequently, free up other team members to focus on more pressing tasks. Relieving the pressure on them can result in bigger gains all round.
Furthermore, a role can be tailored for the right apprentice with the right skill set.
Injecting new energy and creative ideas into a business
It's unlikely that you'd argue against an injection of energy and creative ideas into your organisation. And that's exactly what an apprentice can bring.
An apprentice will have a different and fresh approach to problem solving and idea development which can result in new and innovative ways of working. These changes can help to energise and motivate existing staff who may previously not have seen any opportunity for change.
An apprentices' technological knowledge is also a bonus, as a better understanding of current social media and technological trends can help create competitive advantage.
Hosting an apprentice has never been easier or better for your business and team. The benefits speak for themselves. So, for a more productive, happier and energetic team, shouldn't you be considering hosting an apprentice today?
Author - Frontline Human Resources
---
Tags
employer
,
apprentices
,
group training
,
temp recruitment
Related Articles