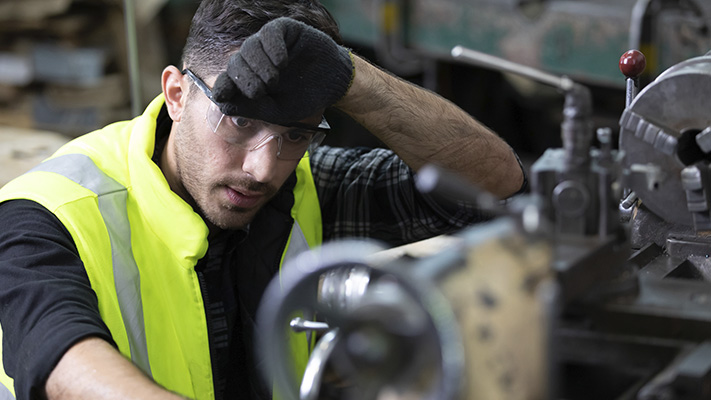 Physical injuries that occur in the workplace are obvious in their visibility. Mental injuries, also known as psychological injuries, are not. But as mental injuries become more common in the workplace, it's important that employers see them.
Statistics from SafeWork Australia show that 7,200 Australians are compensated for work-related mental health conditions every year. This equates to around 6 per cent of workers' compensation claims, and approximately $543 million is paid in workers' compensation for work-related mental health conditions.
Mental injuries may lead to depression, anxiety, and post-traumatic stress disorder. Injuries can manifest in cognitive, emotional, and behavioural symptoms which interfere with an employee's life.
It is important to distinguish that injury is typically linked to specific events or trauma, and the liability of an employer may vary between jurisdictions.
Contributing factors
Environmental, organisational, and individual factors can all contribute to workplace mental injury. Exposure to some, or all of these, can result in high stress which can develop into longer term depression and anxiety.
Environmental factors include unsafe noise levels, hazardous conditions, equipment, and accidents. Organisational factors include poor leadership, bullying, and organisational culture. Individual factors include fatigue and feeling overworked.
If left untreated, an employee's mental injury can result in increased absences, sick leave, withdrawal, lack of interest in their role and increased errors.
What is the responsibility of an employer in this situation?
Employers have a commitment to create a safe and healthy workplace. Recognising and helping an employee with a mental injury plays a pivotal role in this. Understanding and managing the issues that have contributed to the injury is key.
In fact, a survey conducted by the ACTU found that more than 60 per cent of respondents had experienced mental ill-health because their employer had failed to manage psychosocial hazards in their workplace.
Similarly, almost half of respondents felt their employer was unprepared to support workers experiencing mental health issues in the workplace.
So, what's the first step?
Open communication with your employee shows commitment to addressing the issues and implementing change. It provides the opportunity for them to be heard and reinforces that their wellbeing is important.
Reducing risk
There are multiple ways to reduce the risk of mental injuries in the workplace.
Identify and implement workplace support for employees
Open door policies can help promote communication. By encouraging employers to reach out and talk, issues can be addressed early and before they escalate. Offering access to an Employee Assistance Program (EAP) is also important.
Offer flexible working arrangements
Offering employees more flexibility may help them to manage their work life balance better. It can reduce the stress of trying to juggle everything, particularly family commitments, and gives them more freedom to work when they'll be most productive.
Work from home options are also worth considering, as are reduced hours.
Awareness and prevention training
Mental health awareness training will empower staff to recognise when employees might be struggling. Creating this awareness is the one of the first steps in preventing a mental injury as help can be sourced as soon as possible.
Reassess workplace set ups
Make changes to anything that can improve the working environment. Reduce noise by providing partitions between workstations or providing more suitable ear protection, adjust lighting, add more foliage, and ensure equipment is conducive to health e.g standing desks.
Offer career development plans
Show employees that you're committed to their personal development. Carry out annual performance appraisals with a clear career progression plan for those who are keen. Offer access to ongoing training and development.
Wellbeing programs
Introducing wellbeing programs and benefits can encourage employees to look after themselves mentally and physically. Social clubs also encourage interaction through the workplace and contribute to a positive culture.
With understanding, time, and dedication, the occurrence of workplace mental injuries can be reduced. Looking after your employees' wellbeing empowers them to better look after themselves.
Disclaimer: This article should not be considered advice. For information specific to your situation, please contact FHR directly.
Author - Frontline Human Resources
---
Tags
mental health
,
injury
,
workplace injury
,
industrial relations
,
safety
,
employer
Related Articles